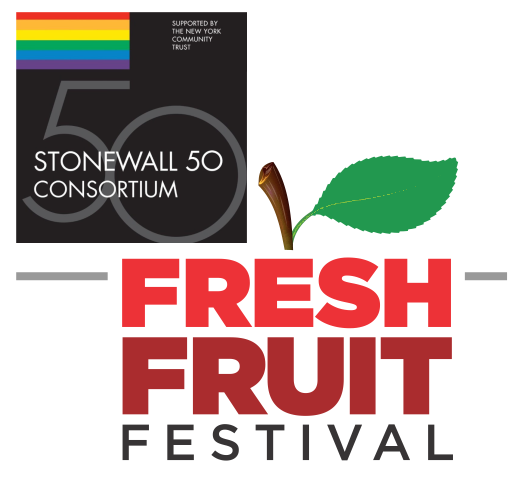 Festival 2019 Mainstage

The 2019 Fresh Fruit Festival MainStage
Our 17th Annual- Was held at The Wild Project, 195 East 3rd Street – July 8 through 21
Handy, printable PDF Calendar of All Shows:  > FestivalPerformances
Build Your Own 3 or 4 ticket Series-Package at great discounts. Purchase online or at the box office: 3-TIX $49 or 4-TIX $60:   > PACKAGES <
Jump To:  Musicals / Short Plays / Solo Shows
---
          WEEK-1,   July 8 – 14
Parlor Tricks
by Charlotte Lang-Bush, directed by Emily Rose Parman
Monday 7/8  8pm; Wednesday 7/10  6:00 pm; Saturday 7/13  5:30 pm    (110′)    World Premiere
At the dawn of the twentieth century, three sisters pull the ultimate con: scamming the world into Spiritualism. Parlor Tricks is a comedy of sex, seances, and sisterhood that brings America back to its folk-mystic roots while examining our literal and figurative patriarchal hauntings.
Notice: violent situations
Metropolitan  –  musical
music and lyrics by Mikey Rosenbaum; book and additional lyrics by Thomas Picasso
Tuesday 7/9  6:30 pm; Thursday 7/11  7:00 pm; Sunday 7/14  6:30 pm    (95′)    World Premiere 
Billy is fresh off the bus from Iowa, but Joey and Jo–bartenders at The Metropolitan and artistic gurus of its after-hours salon–immediately take an interest. But is Billy interested in them, or just his vision for the future? Do Jo and Joey want to help Billy, or to reclaim their broken past? A musical Valentine to New York, and to anyone who's migrated here in search of art and adventure. 
Lovebird Jamboree 
by Sarah Elisabeth Brown
Tuesday 7/9  8:30 pm; Friday 7/12  9:00 pm; Saturday 7/13  2:00 pm; special Encore: Friday 7/19 6:30 pm    (70′)    New York Premiere
Based on a series of interviews from people in the LGBTQI community, eight very different characters present their defining love stories. Gym junkies and sex workers, academics and softball jocks, wannabe superheroes and Midwestern Jell-O Salad aficionados . . .  all get their say in this heartfelt, funny set of monologues. Supported by the Santa Fe Community Foundation as part of their storytelling project, the work premiered in New Mexico in 2000.
All Over The Map
featuring the international mime –  Bill Bowers 
Wednesday 7/10  8:30 pm;  Sunday 7/14  2:30 pm    (90′)    Regional  Premiere  [SOLD OUT – Limited seating at the Box Office]
50 states, 30 years on the road, 25 countries, 2 hookers, 1 bunny, and a mime!  Bill Bowers takes you places so unbelievable they could only be true. Bowers has performed on Broadway, at the Kennedy Center, the White House, and the finest grade school cafetoriums around the world. In ALL OVER THE MAP, he shares stories and characters that will stay with you long after lights up.   A special presentation by All Out Arts
ALL OUT DANCE  –  The LGBT Choreographers' Showcase
curated by John Zullo
Thursday 7/11  9:00 pm;  Saturday 7/13  3:30 pm    (90′) 
Curated by Raw Movement's own John Zullo, All Out Dance features 7 new and emerging LGBT and often "Q" movement works by the area's top choreographers.     2 Performances Only.
Bismillah
by Nakisa Aschtiani
Friday 7/12  7:00 pm; Saturday 7/13 8:00 pm; Sunday 7/14  4:30 pm    (90′)    World Premiere
When a shooting at a gay bar changes their lives forever, a group of longtime Iranian American friends, from varied upbringings, are forced to grapple with their beliefs–and to fight for what's right in a new and troubling world.  What happens when hate clashes with unconditional love? 
          WEEK-2,   July 15 – 21
Head First
by Dennis Bush
Monday 7/15  8:30 pm; Wednesday 7/17  6 pm; Friday 7/19  8:30 pm SOLD OUT; Saturday 7/20  2:00 pm    (80′)    World Premiere
One young man's ricochet journey of survival takes us through brain injury, sexual assault, and the struggle to protect a relationship from both. A celebration of sexuality and an exploration of trauma and control. From the creator of Fruitie Award-winning shows (Mary) Todd and …Where You Eat. Online Interview with author:  LISTEN
OUT SHORTS   –   The Festival 10-minute LGBT play contest
Monday only,  7/15  6 pm
An incredible collection of new works by a diverse group of New York City playwrights who compete for audience and jury votes, share cash prizes, and perhaps launch a career or two!
"Pas de Deux"  –  An evening of three 1-Act Plays
Tuesday 7/16  6:30 pm;  Saturday 7/20  4 pm    (90′)    
A premier collection of 3 LGBT 1-Act plays
> The Island – by Joe Breen  – In the 1950s, a teen boy and girl, buckling under the weight of social expectations, find themselves unlikely confidantes when they run away from their respective summer camps: a "Pray The Gay Away" camp and a "weight-loss" camp.
> Once Begun – by Tim Aumiller  – One dark night in Germany, two men meet for the first time after talking online about a very specific set of interests. But can they go through with their plans? Once they've begun, there's no turning back. A short musical about the extremes of desire—not for the faint of heart. 
> The Obligatory Scene – by Carolyn Gage, directed by Amelia Cain
Called "A Powerful Tribute To Queer Women's Courage" at the Dublin International Gay Theatre Festival.
Poolside Glow     [This Show Has Been Cancelled]
by Luis Herrera
Tuesday 7/16  8:30 pm; Thursday 7/18  6 pm; Friday 7/19  6:30 pm    (80′)    World Premiere
Our apologies. This show has cancelled with no advance notice. We are replacing with other programming to be announced shortly.
The Knife Cuts Both Ways  –  a 1-person show
featuring Cecilia Gentili  –  directed by Gene Fischer
Wednesday 7/17  8:30 pm (80′)  SOLD OUT  
When the judge gave Cecilia the verdict–'Ms. Gentili, I am going to allow you to stay in the US under a full asylum'–she couldn't wait to go back to Argentina! Returning would be awesome, weird, sad and fun, and it would reveal how a 'New York downtown transsexual sweetheart' was made from an ugly Argentinean Litoral birthplace. (Not to mention the sex that was part of that development: sweet and dirty and full of merit.) Developed in a Dixon Place lounge residency throughout 2017, The Knife Cuts Both Ways is a hilarious and raunchy autobiographical take on one trans woman's queer multicultural experience.
Here To Recruit You  –  a musical
written and directed by Michael Boyd
Thursday 7/18  8 pm; Saturday 7/20  8 pm; Sunday 7/21  4 pm    (120′)    World Premiere 
The little-known theatrical career of gay political icon HARVEY MILK, from a bohemian life in New York City theatre in the 60s, to a celebrated political life cut short by an assassin's bullet.  The All Out Arts special feature for the Stonewall-50 Celebration.
Night Visions  –  a staged reading of the screenplay
by Johnny B. Dunn
Sunday 7/21  2 pm    (95′)  reception 1:30 pm  –  World Premiere, Admission $12
A pre Civil War mansion under renovation is the scene for this dramatic tale of abuse, compassion, and a ghostly evil from 150 years ago.  "A troubled gay teen spending a summer at his uncle's home in rural Louisiana is seduced and terrorized by a spirit in agony. Love, and a voodoo priestess, are his only hope."