All Out Arts has for over a decade presented annual art exhibitions of often profound social significance. Our current presentation fits this mold absolutely. Arts activist Heidi Russell drew our attention to how an emerging liberalism in the West is being challenged by a Draconian backlash against LGBT civil rights around the world. In this battle, as in all battles, art is a powerful instrument for resistance and change.
From the AIDS Quilt to the Rainbow Flag, from the world of Dance & Music to the Graphic Arts, LGBT artists have held a particular position as a social minority to enter this dialogue of protest and renewal. We at All Out Arts reach out to all those whose work is a vital part of the International struggle for justice.
In this spirit we present the current exhibition:
OUTcry: LGBT Voices in the International Dialogue for Justice
– Louis Lopardi, Executive Director
---
This Exhibit was originally conceived by Heidi Russell, who also curated the preview in July of 2015  > Visit Heidi
---
The Exhibition is open to individual artists making an activist statement, as well as non-profit organizations of service to LGBT artists in their activism. To APPLY to join this Exhibit click > HERE <
This is a FREE service by All Out Arts, made possible through the generosity of New York City and the New York City Council.  There are no fees to the artist or to viewers. There are no commissions due on sales. 
Visit the 2016 OUTcry Gallery, Below
STOP Hate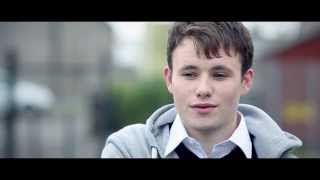 Shh! Silence Helps Homophobia
Novy - Street Crossing Colors
Homophobia is the crime
inter-LGBT organization
Rickie Blue-Sky Native-American
trans color
Bullying LGBT Youth
Prejudice Kills
Bisexuality is not a Stage
Shh! Silence Helps Homophobia

Video from LGBT Youth Scotland that encourages people not to be silent when homophobic bullying is occurring.

Homophobia is the crime

Inter-LGBT Morocco poster - Vote NO on Article 489

inter-LGBT organization

Organization based in Paris, France

Rickie Blue-Sky Native-American

Micah Bazant MAKING SOCIAL CHANGE LOOK IRRESISTIBLE

trans color

Micah Bazant MAKING SOCIAL CHANGE LOOK IRRESISTIBLE

Micah Bazant MAKING SOCIAL CHANGE LOOK IRRESISTIBLE

Bullying LGBT Youth

infographic by Kale Alexander Angelini

Prejudice Kills

Venezuelan artist Daniel Arzola - "I'm not a joke" campaign. Daniel Arzola: Since I was a teenager I had been creating art with a purpose, with a social voice, a cry in a universal language. I started with poems, then photography, and finally illustration. For me art has always been a social expression. I called it "Artivism." But, my story is not very different than the stories of so many gay and trans Venezuelan people. I had a difficult adolescence where I was constantly chased and bothered. When I was about 15 years old, neighbors tied me to an electrical post, took off my shoes and tried to burn me alive. They destroyed all my drawings.

Venezuelan artist Daniel Arzola - "I'm not a joke" campaign

Bisexuality is not a Stage

Venezuelan artist Daniel Arzola - (This princess can have 2 happy endings)